A few days ago, fellow blogger @mediagag showed me a rather unique way of looking back at the year. It was a link to a series of posts on the American website Grantland, where the author Rembert Browne has asked the question "Who won the year" for several years now. The methodology is fairly simple and the rules and bouts are largely at the author's discretion, so it seemed like an ideal thing to copy-paste  do an original post on. I don't do cheating anymore.
The Grantland version takes nominees from various fields and pits them against each other in a knock-out format. I've followed the same process, with the only difference being that I've made some changes in the number of nominees and the categories used. So, without further ado, let's get to it.
To start off with, I have chosen six categories for choosing nominees from Pakistan. These are Sports, Film & TV, Music, Media, Politics and Internet. I have chosen three nominees from each of these categories, other than internet which gets one. Both the choice of categories as well as the number of nominations are meant to try and be relatively proportional to their impact in the country, which is mainly why the internet gets only one nomination.
Sports: this category can really be called cricket, such is the outlandish impact of the game on Pakistan. However, it would be churlish to do so, since there are some major achievements in other fields as well, and I've found space for one of those.
Film & TV: a few years ago, neither of these two categories would've been viable choices, and film only became one this year, but what a year it was. TV has also been fast evolving of late, and that is why it is separate from the media category. This is because when I say TV, I am referring to TV personalities/shows that exist outside the realm of music and news media. This basically leaves morning shows and their type, dramas and comedies.
Music: pretty simple.
Politics: As above.
Media: This refers to the electronic news media, and pertains to both people involved in the media (anchors etc) as well as the people and stories covered in the media.
Internet: Anything, person or meme, which arose on the internet and for which the internet was the biggest platform. Therefore, even if Coke Studio has had a huge year on the internet, it would not be counted since its impact in other fields is much greater.
The Nominees
So as I said, one of the main attractions of doing this piece was that I got to choose everything and make all the rules. That said, I've tried my best to be fair and objective in the choices, and none of these are meant as potshots or snide putdowns. I am taking this process quite seriously, since declaring something/someone as the winner of 2013 is no small matter.
Unlike the American version, almost all the nominees I went with were people (rather than products, shows, movements, technologies etc), although perhaps next year's could be different.
Sports: Samina Baig, Misbah-ul-Haq, Shahid Afridi
It is always challenging to do a year-ender on Pakistani sport and not have it completely dominated by cricket. Nothing else captures the public's imagination quite like it, but often at the cost of other sports, and that's not really gonna change here. Samina Baig is the only nominee to break cricket's hegemony, largely because it would be a tragedy if we miss out on a story as compelling as her's. A 21 year old girl from Gilgit-Baltistan, she was trained for the ultimate challenge by her brother. Dramatically, he couldn't accompany her to the summit as he fell ill, and Samina (who by the way had just entered her 20s when she pulled this off) had to make it to the top without him. Snooker and squash also served some hope but it is cricket which takes the remaining two spots, split between the contemporary dialectics of Pakistani cricket – Misbah and Lala. No centuries in ODIs for the captain, but a stellar year in terms of individual numbers as Misbah woke up every morning descending the steps with team at 11/3 or 22/4, and proceeded to save it. Lala's inclusion comes at the expense of Saeed Ajmal, who now has the record for the most unfair award nomination omissions in the world. But this was the year Afridi legitimately transcended cricket, as an entire film based on not his life but rather his spirit was launched successfully in Pakistan. That's a definite win.
Film and TV: Aamir Liaquat, Mowjtuba, Ayesha Omar
Mera Sultan's various Turks should feel aggrieved at not making the cut here, but thankfully this was quite a competitive category. Aamir Liaquat is definitely a dark horse, with his show redefining Pakistani television this year. Mowjtuba is the world-weary superhunk played by Shaan in Waar, and there is a case for the whole film to be nominated here. However, I felt that Mowjtuba – the ass-kicking, family-murder-avenging, third-option-fucking-yourself hero was one of the alltime great characters in Pakistani cinema, and he steps in as another strong contender. Rounding off the list is Ayesha Omar, who had a barely believable year. Already a star on Pakistan's most popular sitcom Bulbulay, Ayesha began the year with a critically shocking, commercially sensible Lux Style Award for her tepid solo album. She ended the year with the ballsy decision to sing Indian classical on Coke Studio, and regardless of her talents both the songs she was on were quite good. She's also been on several magazine covers, and is one of the most winningest Pakistanis of the past year.
Music: Nescafe Basement, Young Stunnerz, Zoe Viccaji
As I've mentioned before, the music show which will replace Coke Studio in the national consciousness would NOT be Nescafe Basement, but rather Pakistan Idol. However, Geo's new goldmine started too late in the year to be considered here. Nescafe Basement on the other hand generated remarkable buzz for its second season, and has a lot of talent on board. Personally, the show is a bit like Australia in the year's second Ashes – turning to the sort of traditions the native audiences were most comfortable with. For NB, this meant lots of nostalgia, solos, pop covers and compositions which were largely like the ones Xulfi made for eP. Not progressive, but definitely struck a note with audiences. Striking a massive note with audiences were the Young Stunnerz, whose brief run as a duo led to 4 of the top 6 most heard songs on Pakium.com in 2013. The duo broke up by year end, but Maila Majnu, Laamb se Chaurah and especially Burger-e-Karachi will go down in the city's history. Lastly, Zoe Viccaji ended the year right on the cusp of breaking in to the mainstream. She's worked really hard to fashion a place for herself in the scene, and has relentlessly sought out opportunities that have started to pay off.
Politics: Imran Khan, Nawaz Sharif, Chief Justice
Imran Khan was, at one point in this year, sizing up to be our Great Eternal Leader Happy Nation For All Time with both his supporters and the media predicting an election sweep more implausible than the physics in Dhoom 3. However, Umair Judas Javed quite brilliantly and precisely predicted the eventual results on these pages, and it was the Loin of Lahore who was proclaiming victory on 10pm on Election Day. (Nawaz, not UJ)  Post the elections, Imran has been blockading NATO and appeasing the Taliban, while Mian Sahab has made more trips abroad than Zardari while enjoying almost none of the sort of vitriol directed at the smiling chairman or Kaptaan. Beyond these two, there were several candidates for the remaining spots in a category which most Pakistanis seem to think is the only one that counts. Indeed, much of the conversation on other spheres of our society is firmly viewed within a political lens – something which needs to be discouraged IMHO. Anyways, the CJ pips both the former and current COAS as well as various other luminaries to get the final nomination. Having become the first celebrity CJ in Pakistan's history, Ch. Iftikhar forever changed how we view the judiciary and his retirement this year marked the end of an era.
Media & Movements: Mubasher Lucman, Malala, Hakeemullah & the drone that killed him
Sleazebag of the year Mubasher Lucman shouldn't be a winner, but if I used such parameters this list would be more elitist and supremely boring. Mr. Lucman's major achievement was still being relevant despite being shown off as an ultimate tool during #Anchorgate, and as the year progressed he did ridiculous tamashay like trying to ban comparative religion in LGS and Bollywood on our screens. The hatred and scorn that Mubasher deserved was instead delivered to Pakistan's Nobel Peace Prize Nominee, Malala Yousufzai. It is troubling to see the sort of aggro Malala generates amongst dickheads, but then perhaps that is her greatest achievement. No one summed up how we should treat her haters better than Living on the Edge's Waqar Zaka, who advised all of them to PLZ DIE. Finally, we have Hakeemullah & the drone that killed him. It was a spectacular year for both, as Hakeemullah posthumously became the Malakand Mandela with everyone calling him shaheed and his killers dogs. On the other hand, the sort of people frequenting this blog are more likely to have called the drone a shaheed, and those it killed as dogs. In either case, the two go hand-in-hand, or rather, went.
Internet: Taher Shah
With the internet still being nascent, and the Youtube ban having landed a crushing blow on Awais-Lovely-heirs, this category is still not all that it can be. All jokes apart, I had seriously considered nominating Bilawal Bhutto here, who has trumped Abid Sher Ali and Nabil Gabol (just) as the most entertaining politweeter around. However, for all of his refreshingly non-PC tweets, BBZ can't hope to compete with the impact Taher Shah made this year, who became Pakistan's first genuine contribution to global internet culture. Take a bow, Taher.
Round of 16
So I've divided up the nominees into eight knock-out matches. The winner of each will obviously advance to the next round. I have been (almost) random in my choices having chosen the matches as 1 vs 16, 2 vs 15 and so on. There is only one matchup I switched, since I felt it was killing the competition right at the start. It might sound unfair, but unless your baap's name is Five Rupees I suggest you keep that opinion to yourself.
R16 – 1 Samina Baig vs Taher Shah
Samina's achievement was a huge fillip for mountain climbers, athletes and women in Pakistan –individually as well as collectively. In a country blessed with some of the world's most imposing mountains, we should be making more efforts to mainstream our competitors and Samina's conquest of Everest will go a long way in achieving that. Samina also made it to the Hello! Hot 100 of the year, something Taher Shah didn't manage. But that would be the only time Samina beat Taher, who was the epitomy of the awkward, ironic, funny-cuz-its-not culture that makes the internet, and there was a moment in time when it felt like he would be the next PSY. Thankfully, or not, that never happened, but he wins this round here.
R16 – 1 Winner: Taher Shah
R16 – 2 Misbah vs Hakeemullah & the drone that killed him
An evenly matched round between two (or three if you count the drone) of the most divisive figures in the country. Misbah won away series in India as well as South Africa, and in between drew 1-1 with the world's best Test side. Hakeemullah though managed to kill tens of thousands of people and almost got a state funeral for it. To make it worse for Misbah, a strangely translated missive from the TTP also was seen to be mocking Misbah (though it actually wasn't) while his only ally this year was Najam Sethi, a man who will be soon on this list in a caretaker capacity. This is one innings Misbahd won't be able to save, and HK&D rolls past Quiad-e-Tehreek here.
R16 – 2 Winner: Hakeemullah & the drone that killed him
R16 – 3 Afridi vs Malala
A Pashtun superstar derby here, and another one with two massively polarising people. Afridi marked his 387th return to Pakistan cricket with a wonderful performance in the Caribbean, but it was the film Mei Hoon Shahid Afridi (MHSA) which gave him most of his #win points. However, Malala Yousufzai managed to rankle and enrage just about everyone's inner-douchebag merely for the crime of getting shot in the head and refusing to be silenced afters. Such bravery is usually met with bullets and defaced graves in Pakistan, so I'm going to buck the trend and give her the win here.
R16 – 3 Winner: Malala
R16 – 4 Aamir Liaquat vs Mubasher Lucman
Two of the most obnoxious and scandal-resistant personalities in Pakistan face off in this barftacular. Lucman's nomination was acknowledgment of his barely believable effort in coming back from what should've been the dead. But Aamir Liaquat takes that effort, spits his balgham on it, rolls it in shit and then feeds it to a one-eyed donkey with the sort of year he had. He's even ended up on some list of the world's most influential Muslims. Kyun, kaisa diya? Nahi diya acha? Hain bharway?
R16 – 4 Winner: Aamir Liaquat
R16 – 5 CJ vs Mowjtuba
A relatively low-key battle this one, with one rising phenomenon taking on another who's fading away. There were times in the past few years when Ch. Iftikhar got to deliver lines as epic as Mowjtuba's, but probably none of them when he was looking terrihbull. Mowjtuba rode the boxoffice to lead Waar to not only become the most successful film in Pakistani history, but also end up as the global no. 1 on iMDB's year-end user-rated listings. In Waar, the superbly realised Ramal makes Mowjtuba work hard to save the country, but in this round, Mowjtuba didn't even need to stab anyone's hands to make an omelette. Bye-bye CJ.
R16 – 5 Winner: Mowjtuba
R16 – 6 Ayesha Omar vs Nawaz Sharif
One of the more intriguing and low-key battles of this event, Nawaz Sharif's record breaking run to become PM for the third time has literally no equals. Yet, Mian Saab's only achievement this year was not doing anything at all. Of course, orchestrating the masterly election win was no mean feat, but that was a war for the PML-N to lose rather than anything else. In contrast, Ayesha Omar seriously expanded her CV this year and diversified it beyond compare. Apart from the LSA and Coke Studio appearance, she also dressed up as Marilyn for MHSA. Mian Saab had no such highlights, and in perhaps the first shock of our game, he's a first round casualty.
R16 – 6 Winner: Ayesha Omar
R16 – 7 Imran Khan vs Nescafe Basement
Two Lahori contenders both seeking to usurp adversaries much bigger than them got far further than most had predicted, but nowhere near the hype their rabid fans created. IK had many literal and metaphorical falls, and the new in-crowd trend is to loudly disavow the votes and cookies they had made for him earlier in the year. However, 2013 was the culmination of 16 years of effort for Kaptaan, and for all the ginormous gaffes, his popularity and win outranks Nescafe Basement. What should be added here is that this could be the watershed season for Xulfi's show, and next year could see NB go past the first round.
R16 – 7 Winner: Imran Khan
R16 – 8 Young Stunnerz vs Zoe Viccaji
The rapstars ended the year having broken up, while a string of lovely Coke Studio numbers meant Zoe's year ended on a huge high. Perhaps due to the cussing and vernacular, the Stunnerz had less of an impact on the mainstream than Zoe, who also released singles, was featured in several shows and provided her voice to various commercials. But while Zoe's star is on the rise, the supernova that were the Young Stunnerz can't be ignored. Already true cult legends of the underground, they take this round.
R16 – 8 Winner: Young Stunnerz
Quarter-finals
Some big stars fell apart in that first round, most notably the country's Prime Minister AND cricket captain. Clearly, assumption of the two most powerful positions is not the only factor for a win.
QF 1 – Taher Shah vs Mowjtuba
Taher Shah started off as a bizarre oddity, then became ubiquitous, then became the only internet meme your dadi knew about, before becoming a uniquely unfortunate victim after Aamir Liaquat molested him on live TV. A stupendous year, and one that can only be topped by very few. Unfortunately one of those few is Mowjtuba. Terrible accents and awkward romances couldn't stop Mowjie, so our dear old Taher is really no match.
QF 1 – Winner: Mowjtuba
QF 2 – HK&D vs Imran Khan
In all honesty, this win should go to the PTI supremo, who was far more consistently relevant than HK or D. But the reason King Khan loses here (cue the comments spam troll hate) is because he himself gave top billing to HK and used D to essentially anchor his entire politics, and it can be argued that HK&D were the reason IK lost his lustre.
QF 2 – Winner: HK&D
QF 3 – Malala vs Ayesha Omar
I must criticise myself for having only four women nominees in a list of 16, and having a competition in which two were knocked out in the first round and the remaining two are now up against each other. Sad, but perhaps indicative of our country and my own patriarchy. Anyhoos, this is a big-deal match-up, and Ayesha Omar has knocked out the country's Prime Minister in the last round. But she's no match for a girl who was gobbled up by the carnivorous global media circus as well as chewed out by her countrymen, and yet remained poised and graceful. H8rz ka muu kala, this win goes to Malala.
QF 3 – Winner: Malala
QF 4 – Aamir Liaquat vs Young Stunnerz
It's a measure of Mr. Liaquat's prowess that this is the second match he's faced which is barely even a challenge. Yes, YS were iconic but Aamir Liaquat was simply unavoidable this Ramzan. He's taken what Waqar Zaka used to claim (mera show tou burger bachiyan bhi dekhti hain) and multiplied that by 1000, with Pakistanis across all genders, castes, colours and ethnicities glued to the oleaginous Aamir. Goodbye Stunnerz.
QF 4 Winner: Aamir Liquat
Semi-Finals
So onwards to the final four. This is basically a list of the year's top Pakistanis, and it says something both about the year we had as well as the strength of this format that no politicians or cricketers have made it here.
SF 1 – Mowjtuba vs HK&D
A wonderfully symbolic matchup, Hakeemullah's crew was very much the aesthetic inspiration of the baddies in Waar. The year ended with Mowjtuba having recovered from his flu, prevented the collapse of Pakistan and snagged a rebound girlfriend. HK and his drone ended the year in smoke, and despite both him and the drone being venerated by all sorts of intellectuals, his alleged shahadat were no match for a man who was the only Pakistani to do awkward kungfu atop the Pak-China Friendship Convention Centre. Symbolism FTMFW.
 SF 1 – Winner: Mowjtuba
SF 2 – Malala vs Aamir Liaquat
This is easily the biggest matchup so far, one that is even bigger than the titanic semi-final we just experienced. Malala missed out on the Nobel Peace Prize while Aamir racked up the most popular TV show in Pakistani conception, which sets Aamir up nicely. That said, it feels impossible to write the fact that he had more #win than Malala this year. However, despite showing up as a tattoo on Madonna's back, Malala did not provide the catch-phrase of the year. That honour went to "TUKKA LAGAO MUSALMANO" which is a statement that has no rivals in its implausibility.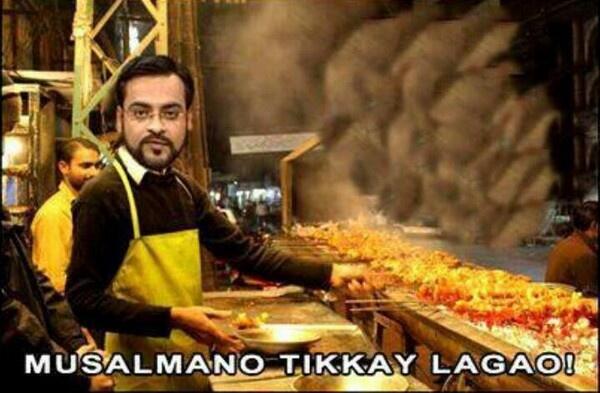 SF 2 – Winner: Aamir Liaquat
FINAL
So here were are, at the final match of the "Who Won 2013 in Pakistan" inaugural competition. The one change I had made in the first round matches was done specifically because these two were coming up against each other back there, and that would've killed the whole buzz. Next year, if I repeat this exercise I will try and figure out a way to seed the nominees so we avoid such Sepp Blatteresque shenanigans.
Final  – Aamir Liaquat vs Mowjtuba
For a country where the narrative against terrorism is about as coherent as a drunken baby, Mowjtuba provided clarity in his heroism. Yes, his particular narrative was largely fantasy, but that still put him head and shoulders above the people actually responsible for crafting said narrative. On top of that, Mowjtuba was the most genuinely sexy Pakistani tulla ever, which considering the context is a singularly marvellous achievement.
However, he is up against a man who managed to combine religiosity and materialism to a level unprecedented in Pakistani, and indeed human history. I mean, it was one thing to have audiences clambering for thousands of phones and motorbikes, which was little more than Neelam Ghar on steroids. Having lions, tigers and peacocks cavorting around his cavernous studio was also remarkable, though perhaps not that exciting. His ability to bring celebrity culture to Iftar and Sehri programming was also noteworthy.
But while Mowjtuba saved the country, Aamir Liaquat GAVE AWAY HUMAN BABIES AS FREE GIFT PRIZES.
Let me repeat that – you could win a human being as a prize on a religious game show in Pakistan last year. No matter what anyone else did in 2013, it was the year that Aamir exorcised the ghost of Ghalib film.
Ladies and gentlemen, the Pakistani who won 2013 was none other than Mr. Aamir Liaquat.
Final – Winner: Aamir Liaquat